On May 24 the Bucharest Bar – the largest of the Bar Associations in Romania – elected a new Dean: Ion Dragne, the Managing Partner of Dragne & Asociatii. The position has traditionally been held by independent litigators, so the election of a lawyer from the "consulting side" – as Dragne calls it – was a first in the Bar's history. CEE Legal Matters talked with the new Dean of the Bucharest Bar about what drove his election and his initial plans in the new role. 
CEELM:
Traditionally, the Bucharest Bar has not had a business/consulting lawyer at its lead. Why do you believe that was true, and what has changed in this election?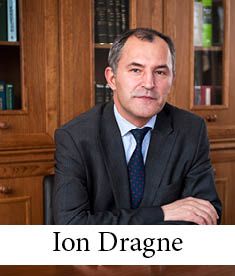 I.D.: I believe it's a simple matter of history. Prior to 1990, in Romania, there was no distinction between litigators and legal consultants. The Bar was established in 1990, but it was in 1995 that the practice of law was liberalized (by which I mean a lawyer would be free to practice and be only subject to statutory law and regulations of the professional body). It was only around 1995 when – also propelled by the increase of investors' interest in the Romanian market – law firms began to emerge with a mixed character, incorporating both litigation representation and consultancy legal service. Consequently, the gap between the two types of lawyers emerging might account for the "traditional" vote.
As for this year's elections in particular, I'd say it reflects a trend oriented to the effort to attract law firms towards the Bar by getting them more actively involved. As for myself, I think I was privileged to be in the unique position of having worked, in the past 20 years, both as a solo practitioner litigator and within consultancy-focused law firms. I believe my election was a first step towards positioning the Bar as a representative body of all lawyers, whether they are litigators or consultants, solo practitioners or law firms.
CEELM:
You mentioned a trend towards trying to involve law firms more in the Bar. Presumably, regulations such as the ones of a year ago, which restricted their ability to market their successes, didn't help in that regard.
I.D.: At the beginning, we have to note the difference between advertising of forms of exercising the profession and professional advertising. Law firms' advertising issues have not yet been fully solved, nor do I believe it ever will, at least in a manner in which all voices are 100% satisfied with the final result. However, the current regulations regarding this matter can be characterized as being moderate towards strict. It is a frequent topic of discussion at the UNBR [The National Association of Romanian Bars] in finding a moderate solution through which to ensure that exercising the legal profession, including marketing your successes, is made possible, ensuring, at the same time, that unfair competition concerns and professional norms are kept in mind. It is possible that my stance on the matter – as published in my electoral platform – might have had a big influence on the results, as well. I'm keen to promote moderate, non-commercial solutions.
Such things, however, are in a constant evolution and adjustment. Take by example the French market, which is starting to open up, while the US one is moving towards a more conservative, submissive approach. At the end of the day, I don't believe we can be honorable or noble as lawyers, if we run around with flyers or put up billboards with messages such as "fresh, good, and cheap lawyers," like warm bread. But, at the same time, I agree that it is not needed for us, as professionals, to shy away from the spotlight, if a noteworthy accomplishment is achieved.
CEELM:
Was there one particular issue that drove your candidacy or, having been part of the institution for so long, was it simply a natural step to run for its leadership position?
I.D.: I don't really agree with the idea of a natural step since it resonates with me as having any entitlement to the Dean position, independent of my peers' votes. Simply put, my decision to run was based on a practical drive. I thought that, as a lawyer myself, whatever the Bucharest Bar does influences my life directly, so I set my mind on the idea of running for and winning, in order to make every lawyer's professional life better – and, implicitly, my own.
CEELM:
In your new role, what is the first point of business you aim to address? 
I.D.: Being in the Council of the organization for 8 years now, I am already familiar with all the Bar's activities. At the moment, I am preoccupied with opening up the institution and making it as available and non-bureaucratic as possible. I wish to reach out to the rest of the country, and Europe, to show that we have a friendly face and that any input or suggestion about how this Bar can progress are more than welcomed.
CEELM:
What are the main objectives you are keen to achieve during your mandate?
I.D.: As part of my election platform, I put forward an extensive list of directions I'd like to advance. The main points can be summed up as following: (1) protecting the profession against unnecessary and detrimental external control (I am including here the near-employment recent proposal of the Romanian state); (2) protecting it against considerable potential errors in the regulation of criminal procedure; (3) ensuring that lawyers are protected when in direct contention against representatives of the state (i.e. prosecutors) and that no repercussions arise from their representation against them; (4) creating a culture of responsible lawyering, which requires an enhanced awareness and discipline towards the rules of conduct, which, in turn, will affect the image of the profession as a whole; (5) re-emphasizing the critical value of professional secrecy, which, unfortunately, seems to have been diluted in the legal profession's value system; (6) bringing the Bucharest Bar closer to the legal profession at a European level; (7) engaging young lawyers and offering them support in their professional development; (8) digitization of the Bar, enhancing the administrative efficiency of the institution and removing any unnecessary bureaucracy – the last thing I want is for our organization to be a simple hierarchical control institution; (9) overall, enhancing members' comfort and ensuring they freely practice the profession in a fair competition setting; and much more. 
CEELM:
It does sound like you will have your hands full. What do you foresee will be the biggest challenges in achieving these objectives? 
I.D.: Stirring lawyers' interest on the multitude of projects I envision working on. Without the interest, the commitment and the involvement of the entire legal community, this will definitely be an uphill battle. 
I hope that my peers will offer their support in facilitating professional trainings with minimal costs, in order to maximize the access for young lawyers; I hope that the digitization of the Bar will be supported by member lawyers and, implicit by law firms; and last but surely not least, I will need to ensure the support of several institutions in order to obtain the financial resources for some of the projects.
The other challenge is time. Unfortunately there is no way of making a day longer so I depend on the people around me. The same way that my partners support me immensely within Dragne & Asociatii law firm, I am surrounded within the Bar by excellent colleagues, as Co-Deans and Councilmen. I don't see myself as the type of Dean who will be running alone around town, trying to sort everything out by himself, the same way I couldn't imagine working alone at the law firm. 
This Article was originally published in Issue 2.3. of the CEE Legal Matters Magazine. If you would like to receive a hard copy of the magazine, you can subscribe here.