On August 9, 2022, CEE Legal Matters reported that Vukovic & Partners had advised ODM Collections on obtaining a purchase of receivables work license from the Central Bank of Montenegro. CEE In-House Matters spoke with Drazen Stevanovic, CEO at ODM Collections, to learn more about the matter.
CEEIHM: Let's start with an introduction to ODM Collections and its operations.
Stevanovic: ODMC is a company whose main interest is professional receivable management and the purchase of overdue receivables. We're highly-experienced NPL servicers but also distressed asset investors.  With a personalized and professional approach, we ensure efficient collection without reputational or financial risk.
The company was founded in 2013 and has a team with extensive knowledge and many years of experience in the field of NPL, sales, and finance. It provides very professional and consistent work on client cases with a new concept on the market, which involves managing the collection of receivables without any costs for the client or with a predetermined minimum amount of costs, depending on the portfolio of receivables. Not long after our incorporation, in addition to services relating to NPL, we also started investing in distressed assets and at this point, we have more than 50 distressed asset portfolios acquired on our own.
In our desire to expand our business to other regional jurisdictions as well, ODMC founded its daughter company in Montenegro – ODM Asset ltd Podgorica. Its core activity is also the management and purchase of receivables allowing many benefits for debtors and creditors such as immediate cashflow and the elimination of the need for in-house receivable management and collection sector.
ODMC currently works in Serbia, Bosnia and Herzegovina, North Macedonia, and Montenegro, and planning to expand the business all over Western Balkans.
CEEIHM: As reported by CEELM, the company was recently advised on obtaining a purchase of receivables work license from the Central Bank of Montenegro. What is the license for specifically and why did the company need it now?
Stevanovic: After the passing of the law on financial leasing, factoring, purchase of receivables, all financial institutions must be licensed by the Central Bank of Montenegro. Bearing in mind that our core business is receivable purchase, the licence was a necessity. At this point, the Montenegrin market is in a specific position where there are not many distressed market investors interested in this financial service which is why we see our chance for expansion especially due to our experience and in-depth knowledge of the local ecosystem.
CEEIHM: How smooth was the process of obtaining the license, now that it is behind you?
Stevanovic: It was a delicate process of preparing all needed legal documents, completing the IT set-up as well as the set-up of other infrastructure but especially because of business development plans. ODM Collection, the founder of ODM Asset ltd Podgorica is based in Serbia, so the business case had to be harmonized with the Montenegrin legislation and local market specifics. With respect to relevant regulations and decisions of the Central Bank of Montenegro, I can say we had a smooth way of obtaining the license, especially having in mind we've already founded companies like this before, and that we had Vukovic and Partners Law Firm as a partner on this project. Also, I must say we were pleasantly surprised by the cooperation of the Central Bank of Montenegro and the high level of professionalism we encountered. Our advisor had experience with different regulators in the region who were not as assistive, while CB of Montenegro is very pro-business oriented.
CEEIHM: And what was the mandate of your advisors on it – Vukovic & Partners?
Stevanovic: We entrusted the whole process of establishing the company and obtaining the license to Vukovic and Partners Law Firm. All legal analysis was provided by VP, and we had them as an advisor in every step needed in this process, especially with the preparation of the documentation which was very extensive. VP has worked with us for the past 10 years in every jurisdiction in the Balkans, and being familiar with not only the legal but also the business aspect of establishing the company, the cooperation was very efficient and economic with applicable solutions.
CEEIHM: Lastly, why did you opt for Vukovic & Partners to assist you in obtaining this license?
Stevanovic: The main reason we've decided to opt for VP, aside from our successful 10-year cooperation, is that we were able to get complete service from them. VP leads a whole team of experts for services that financial institutions usually provide such as IT support, business developers, CROs, etc, so we were able to get complete service and have them not only as legal advisors but also advisors on business set-up as well. Above all, their team consists of experienced lawyers with excellent knowledge of regulations for every branch of law that was necessary for our business. The banking and Finance Department of VP is specialized in providing comprehensive assistance to clients whose core business consists of providing financial services which is why Vukovic & Partners is one of the leading law offices in the Republic of Serbia in the field of collection and strategic resolution of NPLs so it was the best decision to engage them as a partner on this project.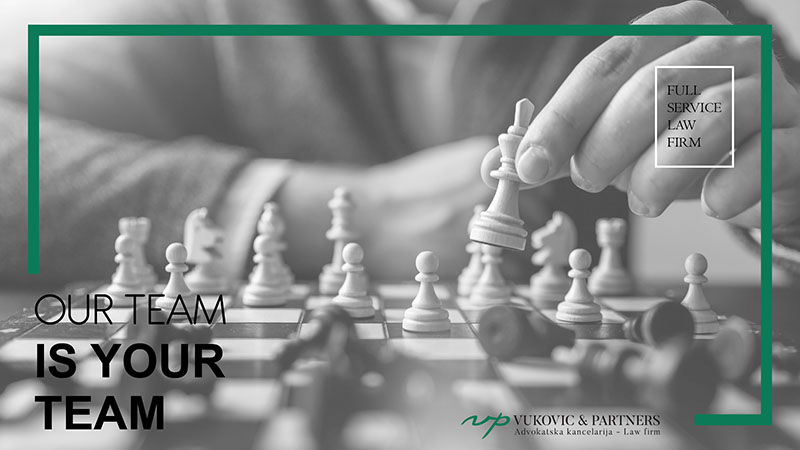 Originally reported by CEE In-House Matters.