The first international law firm to open an office in Poland – one of the first to open an office in any Eastern European country – had headquarters not in New York or Chicago, nor in the closer European capitals of London, Vienna, or Paris. Instead, the first international law firm to open an office in Poland was based at 150 West Jefferson in downtown … Detroit.

And the story of how and why that Detroit firm's first office outside Michigan was in Poland, some 4300 miles away, is ultimately a story of two people, and a shared commitment to a fledgling republic.
Richard A. Walawender, Principal and Corporate Group Leader, Miller Canfield
The decision to open a law office in a foreign country is not ever a purely economic analysis – it inevitably involves personalities, history, personal enthusiasms, connections, client base, and more. Miller Canfield's offices in Poland can be traced to d: all of the above. 
In fact, Miller Canfield's reach into Poland can be traced primarily to the passion and commitment of one young American lawyer. 
Richard Walawender's Polish parents emigrated to the United States after being deported to Siberia during WWII. Walawender studied Political Science and Russian/Eastern European Studies at the University of Michigan, and he followed the news of the Lech Walensa-led Solidarity uprisings in Poland closely. The call to action was irresistible: "So in 1981 I went over there and enrolled in the Jagiellonian University in Krakow, spent a summer and semester there, but … you know, my real motive at that time was to support and join the movement and help out the revolution. I studied during the week, and would hop on a train every Thursday night or Friday morning and go to where the strikes were taking place and the factories were being taken over. And then in the late summer of 1981, when I had a little more free time, I went to Gdansk and volunteered my services with Solidarity's press office. Literally, every weekend was spent at some sit-in or factory strike. It was pretty intense."
Walawender returned to the University of Michigan in the fall of 1981, only a few months before martial law was declared in Poland. As President of the university's Polish Club, he collaborated with other Polish student groups in Poland and Western Europe in what he describes as "an informal student Solidarity underground support network." After completing his undergraduate education and then obtaining his law degree – also at the University of Michigan – he joined Miller Canfield's Public Finance practice in Detroit.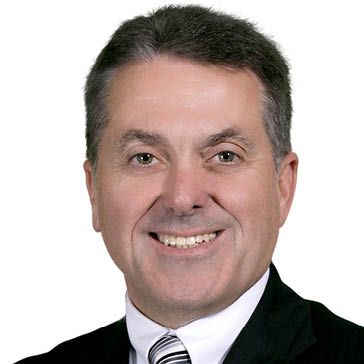 Michael McGee, CEO, Miller Canfield
In July of 1989, shortly after the first free Polish elections, Jerzy Milewski, the new Ambassador at Large, then traveling extensively to rally support for the new government, contacted Walawender for help in starting a bank and in helping find other mechanisms to finance the government's plans for change. Walawender says, simply, "so we described for them how the Polish bond program could raise money for the new government ... and they said 'ok, can you get on a plane?' So we did."
The immediate success of the bank and bond projects caught the attention of other investors. Walawender says that "after we did that, after we worked on the bank project and so on, it got quite a bit of publicity in the Detroit area, and as companies started realizing that the Solidarity government was there to stay, they called us up, and we set up an office in Gdansk, with Wojciech Babicki – he was Solidarity's lawyer – sort of across the street from his office. We didn't even have a phone line, I remember, so he had to use the phone in his house."
Miller Canfield CEO Michael McGee laughs at Walawender's use of "we" to describe the firm's start in Poland. He says of Walawender that, "Rick wasn't just personally involved; he did it. As a second-year associate."
When asked why he was entrusted with such authority and autonomy at such a young age, Walewander – now a partner himself – laughs "I don't know!" But McGee is less uncertain. "Rick has always been a person who projects a lot of confidence, and the truth is that he was a star associate, he was a person that the firm was happy to have, is and was regarded as a really smart guy. His work was very highly regarded, so that when Rick Walewander brought this forward, I think the partners at the time said, 'you know, this kid's pretty smart, why don't we see where this goes?'" 
Wojciech Babicki, Principal and Polish Managing Partnr, Miller Canfield
And McGee's pride in the result is obvious. "I don't know that it's possible to know who might have been the first foreign consultants to be formally engaged by the new Republic of Poland with the task of assisting the new government, but it's fair to say we were among the first, because this all happened so quickly. To some extent Solidarity coming to power was quite unexpected, even within Solidarity, so all of a sudden 'they have to run a country??!' It's not as if there had been a great deal of advance planning in terms of having people thinking about a transition. That's one point of pride that we have institutionally, is that there certainly weren't many – very many at all – who were asked by the Poles to help before we were, and we were flattered and still are flattered to have been asked so quickly."
Of course, international firms need to connect and cooperate with strong, connected, and competent lawyers on the ground. For Miller Canfield, Wojciech Babicki was the obvious choice. 
Babicki, like Walawender, had been drawn to Solidarity's call. He recalls that, "I just wanted to do something. I wasn't a freedom fighter, but I wanted to do something, because it was a great time in Poland." At the time Babicki was working for the Solidarity Fund and the Solidarity Foundation, and was one of the team of lawyers on Lech Walensa's Presidential campaign ("the first one – the one he won," he laughs). He recalls seeing the Solidarity Fund and Solidarity Foundation flooded with new proposals – "some of them to- tally crazy, some of them very interesting, some of them simply stupid" – but the sug- gestion that the new government set up a bank resonated. Eventually David Chase, a Polish Jew who left Poland for Connecticut after WWI, agreed to invest, and in July 1991 the Solidarnosc Chase D.T. Bank (named with Chase's first and middle initials after Chase Manhattan objected to the version without them) was established in Gdansk – in the building which had until recently been occupied by the provincial headquarters of the Communist party. "And that's how we met," Babicki recalls, "because David Chase hired Miller Can-field to do this deal for him in Poland, and that's how I met Rick and that's how I first heard about Miller Canfield of Michigan, and after the deal was done, my current partners called me and said 'look, maybe we can do something together in Poland.'"
Babicki smiles at the memory of the early days. "In the very beginning I tried to practice normal law – in terms of going to the courts, like any Polish lawyer – and tried to work on Miller Canfield projects which were not at the time very huge. I did everything from home, and I just bought a fax machine, and that's how it started."
Summer 1990. Jerzy Kobylinski (President of the Solidarity Fund) and Wojciech Babinski standing next to the the US Constitution.
Miller Canfield today has 17 offices in five countries, and the firm remains known for its strong public finance practice and a long history with both lenders and manufacturers, including – unsurprisingly for a firm based in Motown – with the automotive industry. The firm's Poland presence has grown over time as well, of course, and Miller Canfield now has over 40 lawyers in three offices in the country: the headquarters in Gdinia (where Babicki sits), one in Wroclaw, and the largest in Warsaw. 
And despite the firm's beginnings in Poland as an offshoot of Walewander's commitment to the Solidarity movement and to helping the new government off the ground, McGee laughs that the firm has "absolutely" been profitable in the country. "We did not open offices for the sake of opening offices. The offices and the attorneys are successful and profitable on account of the work we are asked to do by our clients. The clients come first; they drive what we do."
Undoubtedly. Nonetheless, it's difficult to see the profit motive as the only consideration. And everything taken together, as law firm expansion stories go, Miller Canfield's is a pretty good one.
All 1990 photos courtesy of Wojciech Babinski.