In the Face-to-Face feature, we invite a Partner from a leading law firm to interview a General Counsel from his or market. In this issue, Schoenherr Budapest Managing Partner Kinga Hetenyi speaks with Gergo Budai, the General Counsel of Invitel.
K.H.: What is the biggest challenge for you as GC?
G.B.: It's hard to say, since "the biggest" challenge changes often for us. Currently, it's coping with the range of tasks on our plates. This year started early and quickly, and the amount of things on our "to do" list, from legal to regulatory, compliance, and quality control, all skyrocketed. The trick is then how to deal with all these plates up in the air in a balanced manner. 
K.H.: How big is your legal department and how do you structure it?
G.B.: My entire team is approximately 20 people, working across the board: legal, regulatory, quality assurance, compliance.
CEELM: Why did you choose to structure all these functions under one department rather than keep them separate as some other organizations do? 
G.B.: They were separate at one time but when I came to Invitel the CEO preferred them working under the same umbrella since the feeling was that there is a great deal of inter-dependence and they all go hand in hand.
K.H.: In many ways regulatory and legal do overlap and different organizations define them in different ways. For example, within our office "regulatory" means mostly state administrative law matters, but within the AmCham "regulatory" basically means "law-making issues." What does the distinction between them mean to your organization?
G.B.: The way I would differentiate between them is that "legal" handles all types of work that a law firm would normally cater to: contracting, litigations, etc. Regulatory is the branch that, for example, would be engaged with regulatory bodies and comment on a piece of draft legislation. Often, we're talking about technical matters and we need to get information from our tech guys, translate their input to legal or regulatory language, and "push it" to the regulatory bodies (and vice-versa). Most of the times these guys (in "regulatory") have a specialist degree, and there is a lawyer assigned to work with them. Other components that the regulatory team deals with are ongoing procedures from regulatory bodies, such as competition investigations. I am talking here about the initial investigation stage rather than formal GVH proceeding or related litigations, which are handled by either the legal team or external counsel. There is, of course, a lot of synergy between the two functions – hence our decision to have them operate under the same umbrella. 
K.H.: What kinds of legal work do you tend to outsource to law firms? 
G.B.: Our basic aim is to try to do everything in-house. However, we turn to law firms if special or cross border expertise is required or we simply do not have the capacity to deal with a specific matter. 
K.H.: And when you do outsource work, do you tend to use the "good old tested firms" or ask for offers on a case-by-case basis?
G.B.: We do have a number of firms that we usually work with – especially if it involves our shareholders who have their own preferred firms – but, of course, we do work across the board with multiple firms and "try out" new firms on a regular basis. 
K.H.: What is the most important source of information for you in terms of current legal issues?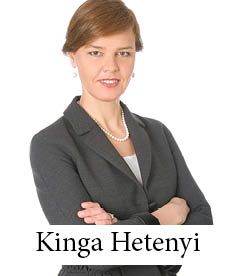 G.B.: Partly, the informal conversations that we have with authorities, outside counsels, and our regulatory team, whose partial responsibility it is to constantly monitor "what's on the horizon" in terms of legislative updates. We need to know of such matters well in advance to both engage regulatory bodies through available channels and provide input and shape it (naturally, within the boundaries of regulations), and to prepare for it. Basically, we need to be aware from the moment that the spark of an idea exists – if we learn of it when we see it as a draft piece of legislation on the Parliament's website, we're too late. 
K.H.: What about various newsletters and client briefs? 
G.B.: I usually skim through headlines to see if there is anything potentially of interest. If not I tend to just delete them, as unfortunately I have little time to read these kinds of things. Even with colleagues, I prefer a conversation (and my door is always open) than a 2-page e-mail that requires me to write up a 3-page e-mail response. Unfortunately I've had to learn to focus on the executive summary as much as possible. Naturally if I need to I will dive into the details but I cannot afford doing that on a regular basis despite my professional interest in the legal details of every matter. 
In fact, I remember working in a law firm as a junior associate and drafting a 5-page memo for a client. The partner looked over it and highlighted 3 lines only and told me to send that to the client only. 
K.H.: What are the main aspects you factor in when choosing a law firm (price, references, directories, international experience…)?
G.B.: Good sound legal advice is our end goal. We're looking for firms/lawyers that prove a good understanding of the local issues at hand and good business acumen. A reliable and responsive lawyer who understands the business and our needs is simply critical. That is why communication is very important. The outside counsel should have a proper understanding of what she or he will be working on, and what our intent is with the work product. 
CEELM: How do you carry out a post-project assessment of the firm you have worked with? 
G.B.: I wouldn't say we have a formal procedure in place, nor explicit/formal KPIs. Usually, after the project is done, we sit down and carry out an internal SWOT-type of an assessment of how the project was carried out and of the firm we worked with. We do tend to provide our findings from this exercise to firms as feedback but it is not based on a formal formula per se. 
CEELM: Do you keep a record of these findings and refer to it next time when picking firms?
G.B.: Again, not a formal record of this per se, but what we do keep and use is the documentation of the project itself. This is primarily in case issues related to it come up in the future – and, for example, we are now reviewing documentation we stored from 2008 with a similar purpose. 
K.H.: I imagine the best sign of well-executed project then is if such matters never resurface.
G.B: In most cases I agree but in certain instances they are inevitable. Recently we've had to pull up records from a matter that dates back to 2005 (we were joking internally that we should get a 10 year birthday cake for the case).  
K.H.: What is the most common problem you face when working with law firms?
G.B.: After working with external counsel for several years, I have a few good examples. One instance that I can think of is a time when we received quality work – but what followed was a huge over-invoice. Even if you agree on a strong cap, you can't precisely judge ahead in all instances and a 10-20% flexibility is an acceptable ballpark, but a triple invoice over original projections is always upsetting. Similarly – and this was probably the funniest instance – I remember receiving an invoice in one instance that included a charge for two hours of "preparing the billing." 
I also tend to be quite disappointed when a certain expertise is presented and you find early on that it is not really there. I appreciate firms that are open and tend to say: "let's try to cover that learning curve together." I appreciate the honesty as opposed to learning later that it doesn't pan out. 
K.H.: I can imagine why invoicing can cause most disappointment towards external counsel. I still remember working as an in-house counsel and challenging one invoice I received from a law firm. What followed was a lengthy explanation accompanied with an invoice for the time spent to justify the original invoice. It had gone as far as to receive the full printed texts of all relevant laws and even being charged with the delivery service to my office.
CEELM: This gives rise to an interesting point. What best practices are there to keep track of billing on both sides and ensure as accurate an estimate as possible?
K.H.: On our end, when I have to provide a fee estimate, I sit down and estimate how much time it will take for my colleagues and me to execute a project. The more of an expert you are, the better the estimate is and the lower the estimated time tends to be. When doing so, various considerations are critical: (1) understanding the issue and the possible impact that it may have on the client's business, (2) having an accurate feel of both their needs and how long it will take to fully instruct them (e.g., if it is a foreign client, do they already know the basics of Hungarian law?), and (3) assessing your internal capabilities. For example, if you feel a standard associate should be able to deliver on a component within two days but, maybe because of capability or work-load, he or she will need 3, you need to factor that in and make sure both the estimate and the final bill reflect the under-rate. Usually, clients will not tolerate paying for learning curves, unless the matter is something really unique, or for law firms internal issues like, for example, that their expert is unavailable due to capacity problems. 
G.B.: On our end, communication is critical. That's why we try to talk to our external counsel on a daily basis. It helps us check in on progress and have an overview of the work carried out – and also helps us see how contingencies impact (or should impact) the final bill. 
K.H.: What are the three pieces of advice you would give a law firm in order to improve their services?
G.B.: I wouldn't dare do that [smiles]. I would say it's all about communication and managing expectations – making sure both sides get on the same page and there is a clear and full understanding of the need. If that's ticked together with the right legal knowledge, you can't go wrong as an external counsel. 
I'd also say that pro-activeness is very important. Tombstones of firms reading that they are #1 on something I tend to shrug off. If they send a newsletter about updates, that's a good start, but it's less important than a call along the lines of "look, this development is in the works and you might want to make sure you are aware of." 
Drawing on the earlier discussion, I'd also suggest making sure an invoice is double checked before it is sent out to a client to make sure you avoid awkward instances. 
K.H.: How does you see the legal market in the last 3 years? What kind of trends do you expect to see (quality, quantity, prices) going forward?
G.B.: It has changed a lot and it is continuously changing. Certainly, the big international firms came in and enjoyed the privatization era, and only a number stayed following the "glory days." Indeed, many qualified lawyers trained in those environments stayed behind and set up their own practices. That competition combined with the economic situation means that law firms simply cannot charge  the hourly rates of EUR 500-700 they were used to. It is without a doubt a smaller market these days, and marked by uncertainty, but while that is not necessarily ideal for businesses, it does help the legal market since that increased risk creates more of a need for external advice. On the companies' side, when they first moved in, in-house teams tended to be large. Once they stabilized in the markets there simply was no need for teams of 5 lawyers any more. Now, when things are rocky again, we started rebuilding in-house teams. Really, summing it up, the one word I could use to describe it all is constant change.
This Article was originally published in Issue 2.1. of the CEE Legal Matters Magazine. If you would like to receive a hard copy of the magazine, you can subscribe here.